21 Nov 2019
THE LINK BETWEEN PRINT AND SPORTSWEAR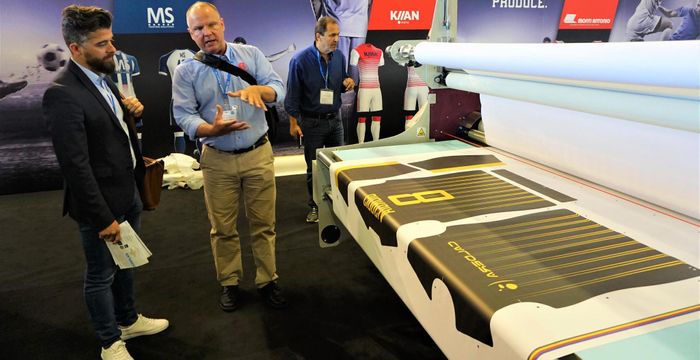 Over the years FESPA's reputation has been built on its global portfolio of events, exhibitions and conferences aimed at specialists in screen, textile, and digital wide format print, as well as signage solutions – so why are we now launching a trade show focused on sportswear production? It's a question we've been asked more than once since coming up with the idea for Sportswear Pro, yet the link between print and sportswear is stronger than you might initially think.
In reality, a lot of the trends and challenges currently affecting sportswear manufacturing are the same ones that are having an impact on the wider print industry. Take sustainability, for instance. Much like in the print industry, the heightened awareness around sustainability and ethical production is leading more sports manufacturers to re-evaluate the materials and practices they employ. Whether you happen to be running a print business or an online clothing store, you can be sure that, going forward, improved waste management and smarter use of materials will be higher on the agenda!
Personalisation is another good example. Today's customers crave products that are tailored to their tastes and that feel unique, whether it's a sports top or a print they can hang on their wall. What's more, they expect to receive the finished product the day after they've placed their order. This means the pressure is on for print service providers and sportswear manufacturing businesses to be able to offer on-demand, just-in-time production and mass customisation as part of their services, especially if they want to stay ahead of the competition.
Social media is also a force to be reckoned with, as it is able to shape new trends that end up having a knock-on effect on production. Just as hotels and retail stores are having to revamp their interior spaces on a more frequent basis to prompt customers to share their snaps with their online communities, now an item of clothing can gain sudden popularity simply through the sheer amount of engagements it gets on social media platforms. As the industry becomes more reactive to trends and styles that are emerging online, the traditional model of fashion brands rolling out seasonal collections at pre-planned dates is likely to become obsolete.
The crossover between print and sportswear has been tangible at recent editions of FESPA Global Print Expo, where a number of exhibitors have been involved in garment printing, with sportswear production being the leading industry sector for sublimation printing. In fact, some of the biggest launches at the last Global Print Expo were textile and dye sublimation printing systems capable of printing onto polyester, a popular fabric in the sportswear industry.
This brings us back to our initial point about FESPA launching a sportswear event. Sportswear Pro will reveal the untapped potential that sportswear manufacturing represents for print businesses looking to expand into textile industry, while adding an extra dimension for visitors with an interest in garment printing, decoration and production. It's an exciting new exhibition that will give attendees a glimpse into one of the most dynamic segments of the textile print industry.
To register for Sportswear Pro 2020, use promo code SWPM201 and register here.